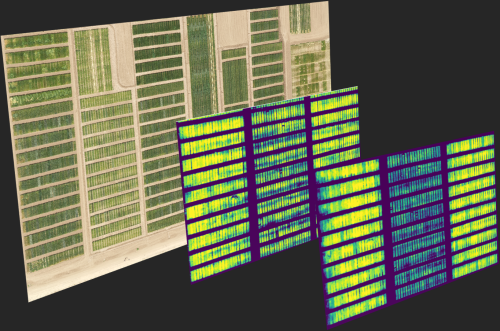 Our program applies farmer-accessible measurement tools and technologies in diverse agronomic settings, calibrates these tools to environmental and management-related cropping system variables, and develops/communicates decision support frameworks that improve resource use efficiency in California grain cropping systems. We also run an extensive small grain variety testing program that stretches from the Imperial Valley to the Oregon border. In these trials, we measure crop phenotypes under a wide array of environmental conditions, including managed-stress gradients. The goal of these efforts is to assist growers and breeders in selecting the most productive and profitable small grain varieties and provide management insight for growers across diverse agroecosystems. In addition, we collaborate with UC colleagues to create live educational content and web-based information tools for a diverse set of stakeholders in the agricultural community. We serve as a liaisons between public research, private industry and policymakers, and provide leadership and insight on issues related to a broad range of agronomic crops in the state of California.
Since 2016 an average of approximately 600,000 acres of cool-season cereal crops and 400,000 acres of maize have been planted annually in California. California is the nation's largest milling state, and the common wheat produced regionally serves as an important source of blending wheat for bread and tortilla production. In addition, the identity preserved Desert Durum wheat produced in California's southern deserts is a value-added export commodity used for premium pasta production. Beyond the economic value produced from grain production, small grain crops, in combination with corn silage, also comprise a significant feed source for the state's dairy and livestock industry, and winter cereals serve as an important rotation crop in the summer annual cropping systems. Cereals are integrated into most of the cropping systems in the state, and production is dispersed across a broad range of California agroecosystems, soil types and precipitation totals. As a result, the agronomic practices and information needs of the small grain stakeholders around the state are extremely diverse. In addition, the management of these crops has ecological implications for the state in terms of regional water and nitrogen budgets and soil health.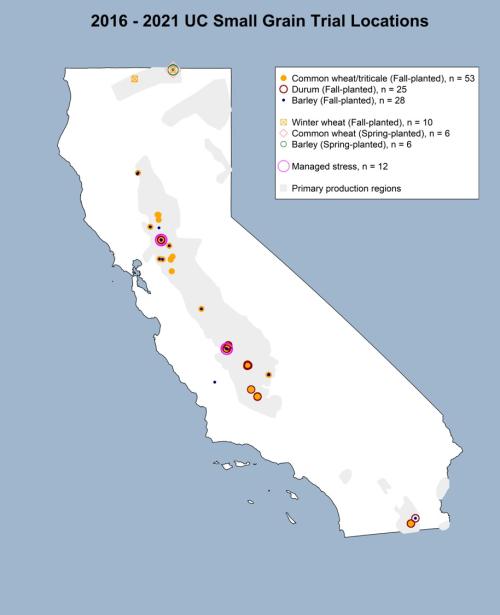 Selected press coverage
Tamping Down on the Dust: Farm fallowing to save water can result in a host of unintended consequences, but the right kind of crop management can build in climate resilience.
Can San Joaquin Valley agriculture survive with less irrigation? Here are ways to do it.
New 'big data' tools help California wheat farmers reduce fertilizer guesswork.
Triticale, wheat farmers get help with new UC software.
UC software provides specific weather data for small grains.
UC helps growers comply with new regulations: Scientists, advisors helping state implement climate goals.
Software allows wheat farmers to streamline soil tests.
Using N-Rich Reference Zones to Inform In-Season Nitrogen Fertilization Practices in California Small Grains.
Growers find success with nitrogen savings: In-season applications cut costs, achieve higher yields.
UC web tool provides information for grain growers.